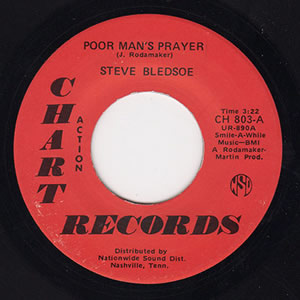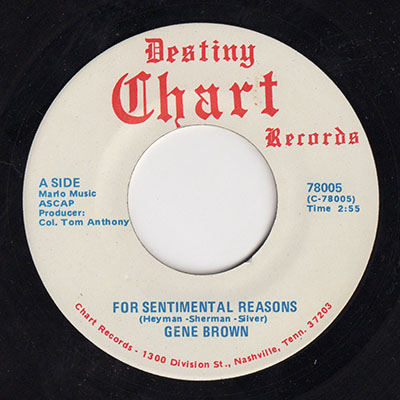 In June 1977 the Chart logo again appeared on the music scene. This time as Chart Action Records, owned by Jack Rodamaker. Apparently Rodamaker purchaced Chart circa 1976 after the Worden outfit declared bankruptcy. Artists included Billy Cole, Billy Brown, Yvonne DeVaney, Steve Bledsoe, Holly Holliday, & Doug Koempel. All I know so far is that appromimately 22 singles were released and most of these were distributed by our old friend Joe Gibson's company Nationwide Sound Distributors (NSD).
By 1978 a man by the name of Calvin Beck under the alias of Col. Tom Anthony either acquired the label or simply started using the Chart name. It was known as both Chart Records and Destiny Chart Records. Both names were taken from label scans with the same address printed on the label (1300 Division St, Nashville, TN.)
What happened with him and the label is anybody's guess right now. I do hope to uncover the truth sooner of later. I do know that Moe Lytle of Gusto Records, Inc. owns Chart Records at this time, having bought it at an IRS auction a few years ago. I wonder what he gave for it? Lytle has released a few of the original Chart LPs on CD in the past few years. Red Sovine's "It'll Come Back", all of Junior Samples LPs, Carl and Pearl Butler's LP, just to name a few.
In the mid 1970's some or most of the LP masters were sold by the bank that held the loan to a company Ronnie McDowell formed, Masters of Music, Inc. They were then allegedly re-sold to the artists who originally recorded them. (Cashbox 1978-06-17)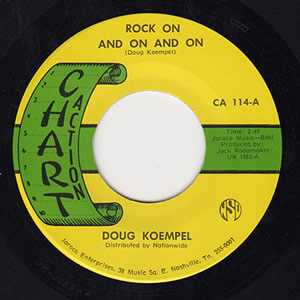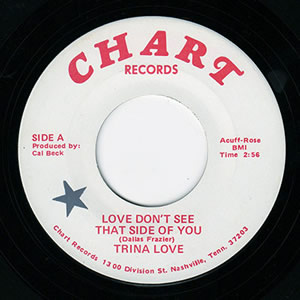 So the Chart Records story ends. Slim went on to form the very successful Scorpion Records in 1975 but by 1979 had quit the music business for good going instead into real estate. Cliff Williamson worked for some of the top music firms in Nashville before settling in with Starstruck Entertainment. Ott Stephens still operated WPEH radio in Louisville, GA until he retired just a few years ago. Joe Gibson retired from the music business in the mid 80's after his wife died. The Worden's? They moved back to back to their home town area of New Albany, In. Donna Lee passed away in 1990 and Bill in 2014.
Slim passed away on Christmas day, 2013. I was fortunate enough to meet and talk with him about his days with Chart & Scorpion on a couple of different occasions. He was full of stories and gave me a lot of information.
I think this is a classic story of rags to riches. As far as I can see, Slim's vision and tenacity were what kept Chart alive. If he were alive and wanted to start a new record company today I think it would turn the country music scene on it's ear, for I know it would come out of the chute kicking and screaming "Listen to me. I am REAL country music!"