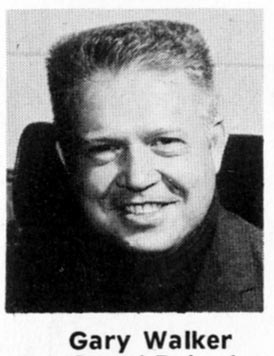 Chart Records was formed circa 1962 in Atlanta, Ga. by Gary Walker. He formed the label primarily as a means to record some of the local talent and to lease the master recordings to one of the larger labels such as Chancellor, Decca, and Columbia. His artist roster at the end of 1963 included Lee Miles, The Winchesters, Roy Cook, and Curtis Keen. The first record released on Chart was by Don Carroll - "Misery Loves Company" b/w "Big Brother" (# 45-1). It was subsequently picked up by MGM.
The first 3 releases show Chart Records being located in Atlanta, Ga. While #45-1 has no address, both Y-501 and Y-502 list Box 62, Atlanta 1, GA as the address and all 3 have sides published by Lowery Music.
Shortly after forming the label, Walker relocated to Nashville. After the move, and since he intended to start releasing records in earnest, he decided to have a more professional look to his records. He enlisted the services of a local Nashville graphics designer to design Chart's famous logo. Beginning with release # 1015 the familiar Chart logo was seen on all succeeding records. As seen in the image below, the color scheme was blue graphics and lettering on a white background. The address now read P.O. Box 562, Nashville, Tenn. until approximately release #1045, then the address changed to P.O. Box 73, Nashville, Tenn.
Sometime in 1961 or 1962 B. L. "Slim" Williamson, owner of Peach Records & Yonah Music, had become acquainted with Walker and together they released a few singles that Williamson had produced in hopes of a major label contract. The first being "The Way It Feels To Die" b/w "You're Not All Here" by Vernon Stewart (# Y-501) late in '62. The disc was picked up by Vee Jay Records and subsequently made it into the Billboard Top 20, peaking at number 17 in 1963. Williamson would enlist Walkers's help at Chart Records a few more times in the next couple of years to help with the release of several more records.
Release numbers 1015 thru 1035 were produced either by Gary Walker, Gary Walker & Joe Clark, or Tri-Arts Productions. Numbers 1040 and above are Williamson produced and state "A Yonah Production". Beginning with release number 1035, Sound of Nashville pressed the records. I am not sure who pressed the first 4, but they were mastered by Nashville Matris, and possibly pressed by Globe Nashville since that is cut into the dead wax area, but again, I'm not sure.
Over the course of the 1960's and 1970's Walker became a very prominent man in Nashville's music scene and produced a few more records for Williamson even into the 70's. Since about 1981 he is the owner of a large record and music memorabilia shop called The Great Escape located in Nashville.
Finally, in the spring of 1964, Williamson's first big break came. . .See The History of Chart Records - The Early Years.
Written by Martin E. Thomas, 2003-2006.