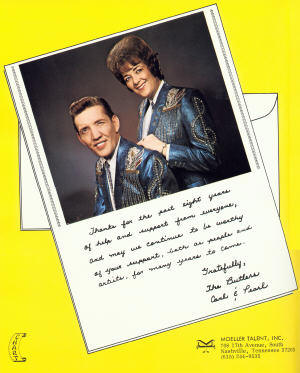 Carl Robert Butler, who's strong Roy Acuff / The (Kyle Homer, and Walter) Bails Brothers vocal influences showed through his full-throated, emotional hard-country singing. He sang both solo and duet's with his late wife Pearl Dee (Jones) Butler, who died of thyroid complications on March 1, 1989, she was 60 years old. The duo was popular among country and Grand Ole Opry fans alike. Carl died of a massive heart attack in the Nashville suburb of Franklin, Tennessee on September 4, 1992 at 4:00 PM, C.S.T. Although he had a history of heart trouble, he had felt fine in recent years. He and Ed Russell Castle Records just had completed 20 songs for a new album.

Carl Butler was born in Knoxville, Tennessee on June 2, 1924, and that was where he lived his childhood years. He listened to the Opry radio broadcasts in his youth and was playing the acoustic guitar by the time he reached high school. In 1939, his first paid job was as guitar picker for a square dance band and filling in as a singer between sets. By the time he graduated from Stair Tech High School in the mid-1940's, he had performed at several local clubs and dances. He was asked to join the Opry in 1948. In the 1950's he was featured on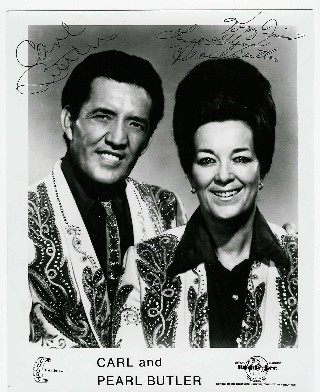 shows in other parts of the southeast, as well as radio stations WROL, WNOX in Knoxville (at WNOX, he performed on the "Mid-Day Merry-Go Round " on CBS Radio's "Tennessee Barn Dance") and WPTF in Raleigh. He was also featured on the television stations WATE and WBIR in Knoxville.

Carl and Pearl joined the Opry as a duo in 1962 and their 1960's duets on Columbia sparked the revitalization of country male/female duos that would set the pace for success within the next three decades. The Butlers toured America and Canada and were regulars on such TV shows as the syndicated "The Porter Wagoner Show". They appeared in the movie "Second Fiddle to a Steel Guitar", in 1967.

Carl Butler recorded solo output for Capitol Records from 1951 to 1953. Okeh Records and Columbia from 1953 to the 1960's, including these numerous singles: " Country Mile ", " I Need You So ", " Linda Lou ", " Our Last Rendezvous ", and " Penny for Your Thoughts ", which appeared on Willie Nelson's 1976 LP. " Don't Let Me Cross Over " (the #1 country hit/gold certified single from 1962-63), was vocally credited to Carl and featured harmonies by Pearl, this hit has since been covered by several country artist.

Carl Butler wrote " Building On Sand " (with Earl Scruggs), " Guilty Conscience (recorded by Carl Smith)", and " If Teardrops Were Pennies " (which was a #8 country hit for Carl Smith in 1951). He wrote a Pearl Butler single in 1966 and a 1973 top-ten hit for Porter Wagoner and Dolly Parton. Carl and Pearl helped Dolly Parton get established in Nashville in the early 1960's.

Carl wrote, " Crying My Heart Out Over You ", which became Ricky Skaggs first-ever #1 country hit, recorded on a 1981's gold-certified LP " Waitin' For The Sun To Shine ".


From the Castle Records Website.