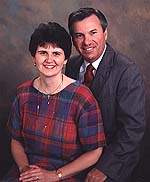 The Making Of "Sammy Poole in God's Country"

I recorded most of the "In God's Country" album in Brazil while on a missions tour and later added some songs recorded at Starday Studios in Madison, TN. Then Slim Williamson, owner of Chart records, a man I had known since his radio days in Louisville, GA., wanted to put it on the Chart Label. At that time, there were three albums on that label: Lynn Anderson, Junior Samples, and mine. It received top billing in BILLBOARD and RECORD WORLD Magazines and was distributed for two years by RCA in New York, but never did anything. RCA had added guitar and a steel guitar to make it true stereo, as it had been done monaural initially.

Visit Sammy's Web site: Good Shepard Ministries
---
How did you became associated with Slim?

I met Slim Williamson and Ott Stephens when they were in Louisville, Georgia - they were in together at WPEH Radio. Slim and Ott started Chart, as I recall, and Ott later traded his interest in Chart for Slim's interest in WPEH. (That is what I believe was the case.) My Dad had a gospel radio program on WPEH called "The Gospel Messenger", and Slim and Ott played my first album, "The Evangelistic Singing Style of Sammy Poole," which was recorded at Starday Studios in Madison, TN., and "The Unique Galilean," which was recorded in the old Studio B in Nashville.

Can you provide a little more detail about how your record got on the Chart label?

I recorded most of the album in Brazil, and intended titling it: "Heartbeat Brazil." When Slim asked about releasing it on Chart, he suggested the title, "Sammy Poole in God's Country." We went into Studio B, Nashville, and added steel guitar (Lloyd Green) and another guitarist, as the initial recording was done on a missionary trip to Brazil. RCA had worked out a distribution agreement with Chart and they had to have it in stereo. The original master was monaural.

Any special memories you have of Slim or any one else at the label at that time?

I have many memories of those days. Slim and Joe Gibson became "partners," I suppose. At least Joe wrote and produced many of the Chart songs. Joe and his wife Jo, were great people, and he and I collaborated on the writing of a children's Christmas song, titled: "SNOWBALL," a project I was doing, and needed a song for kids. Joe had had this idea for years, he told me. To be honest, he deserves all the credit, but being the gentleman he is, he gave me half credit. The song was to have been recorded by one of country music's giants, or so we were told, but that never happened. Representatives of Disney in California, said, "Snowball is the most commercial Christmas song we have heard since "The Little Drummer Boy." They wanted the song, I was told, but Joe and I had already assigned it to Yonah Music, and now it's buried somewhere in the archives of Music City's "songs that might have made it." We may never know.
During the Country Music Awards in 1968, I believe, I recall being a chauffeur for Junior Samples and his wife Grace. His tall tale about the fish he said he caught, (but didn't), was big on the minds of a lot of folk then including Chet Atkins, who, when he mentioned Junior at one ot the events, commented, "Now, that's a guy I want to meet!" I drove Junior and Grace back to their motel, and he said to me, "You want to come in and have a drank?" I thanked him, but told him I don't drink, and Grace said, "You'll always be proud!"
While I met some of these people, and knew some better than others, I was never an "insider," and have no tales to tell. I simply met them on a stroll through life.


Did you record any other material for Chart besides "In God's Country"?


I recorded two country songs on a 45 for Chart's subsidiary label, "Great Records." These were titled, "Johnny Big Foot," and "Take Your Time." These were recorded at Columbia Studios on a split session with then mayor of Macon, Georgia, Ronnie Thompson. I met a high school student in Stillwater, Maine in 1966 who wanted to record country music. I was in Stillwater speaking on behalf of Teen Challenge in Boston. (A youth organization I worked with for 15 months - in New York, then Boston.) I contacted Slim, and he had me bring Allen Whitcomb to Nashville to record four songs with the Anita Kerr Singers and some of Nashville's top pickers. Allen didn't make it as a singer, but after a stint in Viet Nam, he returned to Nashville to work with Slim at Chart. He has done real well in Nashville, working with agencies for Randy Travis, and many others in country music. He has his own agency today, I believe.


How did you come up with the song selection on "In God's Country"?


They were just songs I enjoyed singing, other than "God Made This Country Great," and "I Wanna Walk In God's Country." They were songs Slim asked me to do, and I have always been glad I did.