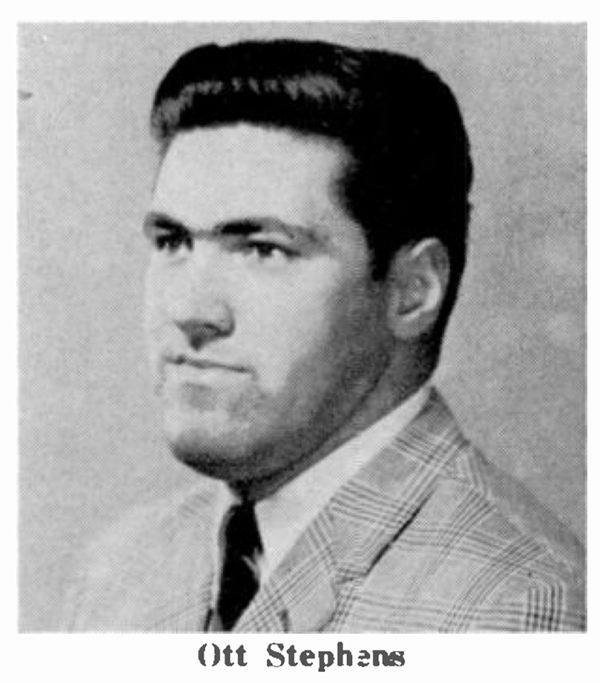 Ott Stephens - A man of many talents.
Ott Stephens was born in Ringgold, Ga., Sept. 21, 1941. His father was a musician, so naturally, he learned to play the guitar at an early age. His first experience came with singing at churches, civic clubs and community functions.

After completing high school, Stephens began to work shows and clubs in the North Georgia and Chattanooga areas. A break came when he met the Willis brothers who had a regular TV show which gave him a lot of publicity; but more than that, it was very valuable experience and it did a lot to build up his confidence.

The next move was to try to get a record out, and that was where Ott first met Slim Williamson. Slim gave him an opportunity to record on his Peach Records label and his first release was in September of 1960. "Victim of a Holiday Weekend" was the title, and although it set no sales records, it did get his name around pretty well over the country.

Also in September, 1960, Slim opened a new radio station in Louisville, Ga., and early in 1961 Ott went to work at the station as a disk jockey. This was a good move because it enabled him actually to get closer to the record business and learn more about what hits are made of. Slim and Ott worked together in the music business closely and in 1964 formed a corporation and bought Chart Records and really began to push Yonah Music, a publishing company which Slim had owned for several years.

The music grew, and in 1965 Slim moved to Nashville to devote all of his time to it. Ott remained in Georgia to be General Manager over WPEH in Louisville and also WLOV in Washington which they purchased in 1965.

During all of this time, Ott has continued to record and work some shows. Some of his records which have been in the charts are "Big Boys Don't Cry," "Be Quiet Mind," "Too Much of You," and "If You Can't Bring It Home."

---

The above was reprinted from Record World Magazine, May 18, 1968. Shortly after the article appeared Ott decided he wasn't ever going to make the transition to Nashville, besides he was much too busy trying to look after the radio stations to concentrate on his music career. He decided he should bow out of the record business and concentrate solely on the radio station. With that in mind he approached Slim and told him of his plans. Of course Slim was flabbergasted, but he knew Ott well enough to know that he knew what he was doing. A mutual agreement was drawn up and Ott traded in interest in Chart Records for Slim's interest in WPEH. Although on the outside it would appear that Ott got the lesser of the deal, considering that WPEH is still a very active radio station and Chart Records have been gone for almost 30 years, I think Ott got the best deal. I know he's happy with the transaction! More on Ott in a later interview!