| | | |
| --- | --- | --- |
| | | |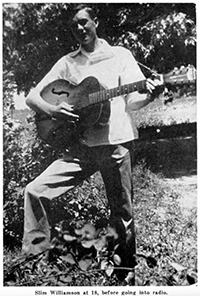 Bradley L. "Slim" Williamson was born in Arcade, GA November 21st, 1927. As you can imagine times were pretty tough back then. The country was on the verge of the Great Depression and the future looked pretty bleak. He only went as far the 8th grade in elementary school before quitting to help provide for the family. By the time he was 14 years old he was working 12 hour days in a local grocery store. Yep, Slim was no stranger to hard work.

He began his musical career fairly early in life, teaching himself to play guitar on cold winter nights. Before long he was fronting his own country music band. One night while his band was performing on the radio it was learned that the announcer had forgotten his commercials. Slim saved the day by saying he would do the commercials. He made up spots for Kelvinator, the shows sponsor, and went on to do his show. The commercials went over well and soon he was offered a position as a DJ. Before long he gave up his singing career and became a full time broadcaster. Shortly thereafter, on July 13th, 1948 he married his one and only wife, the former Mirl Eddins.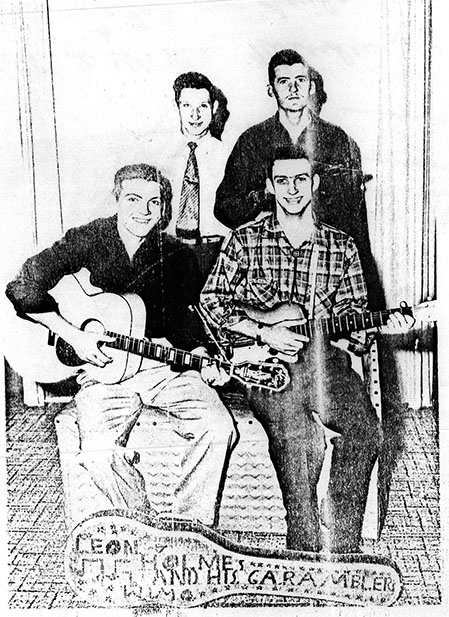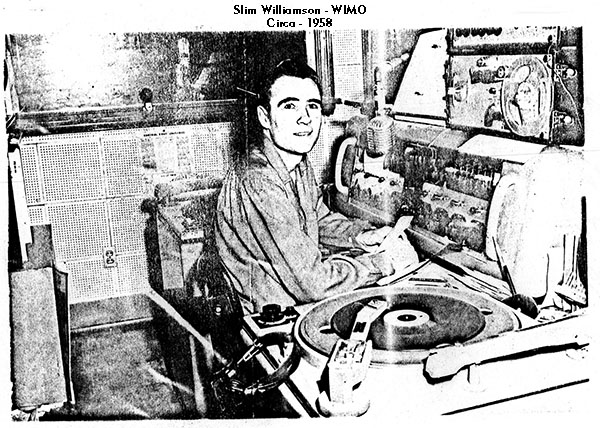 In 1956 Slim was a DJ for a radio station in Winder, Georgia, WIMO. He met a young man who was 19 years old who wanted nothing more than to make a record. He didn't know where to start, had no money, and a top it off, he had a heart disorder; so severe in fact that the doctors had given him only six months to live. The young boy's name was Leon Holmes.
Slim wasn't in much better shape financially, but being the kind of man he is, he wanted more than anything to make this boy's last days happier, so he recorded Leon Holmes and the Georgia Ramblers at the WIMO studio. He took the tape down to Nashville and saw Don Pierce of Starday Records. Don told him that he didn't really want to release the record on Starday and suggested that Slim form his own label. Slim formed Peach Records and Starday pressed and distributed the records under their Custom Package Series. Well, as expected, the record didn't set the charts on fire but, it was a pretty good record. Miraculously, Leon lived a good many years past the six months the doctors gave him and recorded several more records for Slim and others. In fact Starday released one of those on the Starday label!

Peach Records released quite a few records in it's time (1956-197?). Artists that Slim recorded were Del Reeves, Ott Stephens, Lewis Pruitt, etc. Although Slim owned Peach Records, a lot of his masters were leased to other labels. Actually that was his main purpose with the label. A demo was pressed on Peach and passed to the DJ's. If the record got a lot of airplay one of the major labels would pick it up and release it. Decca, Chancellor, VeeJay, Reprise, and Columbia, to name a few, all leased masters produced by Slim on his Peach label. In 1958 Slim formed Yonah Music, Inc. to publish some of the songs he was cutting. His first big hit as a publisher came with "Softly and Tenderly" written by Red Bailey & Jim Howell and sung by Lewis Pruitt, released on the Decca label (Decca 31095). It earned Yonah the first of many BMI awards.
Slim was a Disc Jockey for about 8 years at various radio stations and was once selected as Mr. DeeJay USA by Nashville's WSM radio where his son Cliff would occasionally help him with his DJ duties. They were known as Big Slim & Little Slim in those days. Soon he would own his own radio station, WPEH in Louisville, GA.

WPEH was a marvel in itself. From ground breaking to first broadcast, a mere 30 days elapsed. The fastest in history that a working radio station had been built. WPEH went on the air September 10th 1960.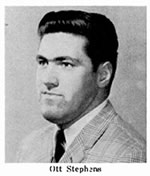 It was here that Slim met Ott Stephens. Ott was born in Ringgold, GA Sept 21, 1941. He started playing at an early age and soon found himself on TV with the Willis Brothers. The next step was to get a record out and that's where Slim came in. Ott's first release was "Victim Of A Holiday Weekend" b/w "Why Does Everything Go Wrong" on Peach Records (Peach 742). It wasn't a top hit, but it did well enough to encourage him to do more. Early in 1961 Ott went to work for Slim at WPEH as a disc jockey. It was a shrewd move on Ott's part as it brought him closer to the record business and allowed him to see first hand what made a hit record. Although Ott never had a huge hit himself, he was part of Chart's hit making machine until 1968.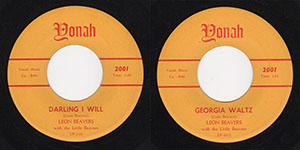 Also, early in 1960 Slim formed Yonah Records. It is unclear to me at this time why Yonah was formed since Peach Records was already in place, but it could be attributed to the fact that Peach was partnered with Starday and either Starday rejected them or Slim wanted them separate for some reason. The material was very good, so I don't think that Starday would have rejected it. More likely than not they were simply a showcase for his publishing company, Yonah Music. Whatever the reason, the first Yonah record was "Darling I Will" b/w "Georgia Waltz" by Leon Beaver(s) and the Little Beavers. Leon's son, Rockabilly Hall Of Famer Stan Beaver, scanned the labels and sent them to me along with MP3's of both sides. There were only 4 singles released on the Yonah label.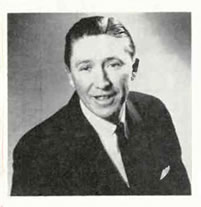 While at WPEH in Louisville, GA, Slim had the great fortune to find Jim Nesbitt waiting in his office one night in early 1964. Jim had just came up from South Carolina where he had recorded what he felt was a hit record. He knew of Slim's reputation as a producer and had heard Slim was releasing some records on the Chart label. He hoped to get Slim to release it in hopes of being picked up by one of the majors. After Slim listened to the tape he agreed with Jim - they had a hit! The next step was to get it released. He talked to Gary Walker who owned Chart Records. Slim had used Gary's label a few times in the past to release some records. A deal was made soon made and by March 1964 Jim's "Looking For More In '64" was climbing the charts!

Slim told Gary that he hadn't much money, but was confident that Jim's record was a hit. The record was doing well enough that Slim offered to buy the label. Gary was using it primarily as a springboard to the major labels for his artists. Since Gary hadn't much money either he offered Chart to Slim for $350.00, the cost of registering the label with the musicians union. Peach wasn't affiliated with the union and Slim realized that if Jim's song was to get the attention it deserved it would have to be done with a union label. Slim and Ott Stephens went in partners and bought Chart Records in March, 1964. Jim Nesbitt's "Lookin' For More In '64" was a huge success, just as predicted. Slim needed to get the record out to the public so he made a deal with Sounds Of Nashville to press and distribute the record. The song that launched Chart Records for Slim hit the charts and stayed there for a 27 week run making it all the way into the Top 5.

Over the years Slim's interests in the radio business prospered. In 1965 Slim & Ott bought WLOV in Washington, GA.

On the strength of "Lookin' For More In '64" Slim decided to move the operation to Nashville, TN. Gary Walker was set up in offices at the RCA Victor building and Slim used those for a time. He then later moved to the Capitol Records building where it remained until, as far as I know, Chart closed it's doors. Slim moved his family to Nashville late in 1965 and Ott remained in Louisville, GA to oversee the radio stations. He had planned to move to Nashville as soon as he could, but he never got around to it. In October 1965 Slim signed Lynn Anderson to the label and as they say, the rest is history!

Slim sold Chart and his publishing companies in April, 1974 and moved back to his home town in Georgia but the music bug kept biting him. In August,1975 he formed Scorpion Enterprises, Inc and again brought a small independent label to the top. Scorpion Records was voted the number one independent record label in 1977. He had Jim Nesbitt, Jean Shepard, Roy Drusky, and Ronnie McDowell to name a few. Ronnie's song "The King Is Gone" brought fame to both himself and to Scorpion Records, selling a reported 3 million copies.

But Slims interest in the record business didn't last too long. Times, and the industry, had changed. He no longer enjoyed being part of the combine that had become country music. The music was becoming more and more pop sounding and traditional country music was slowly being phased out.

The biggest blow came when Ronnie McDowell left Scorpion. All the hard work Slim had put into Ronnie was just starting to pay off, but the promise of a bigger and better career lured Ronnie away. Slim was tired of building artists only to have one of the major labels lure them away from him. First Lynn Anderson and now Ronnie McDowell. Slim decided it was time to bow out. Before the decade was up Slim closed the doors to Scorpion Records and to the music business. He vowed to never again become involved in such a venture. In fact, he was so dismayed with it all that he took practically all the memoirs of his recording days and buried them somewhere on his farm in Arcade. I don't mean he dug a hole and put the stuff in it, I mean he took a bulldozer and 'dozed it all under. His BMI, SESAC, & ASCAP awards. Most of his records. Everything. Gone. At least he thought he had gotten rid of it all.

Slim formed Arcade Homes, Inc. in Arcade/Jefferson, GA and decided to develop land instead of talent. He has done as well in that area as he did in the record business. He applied the same logic to real estate as he did to music; work hard, be fair, and be honest. Slim's philosophy seems to be "don't try to sell someone a bill of goods that isn't as good as what you say it is". It works in every walk of life. Real Estate, Music, Finance, you name it.

When I first called Slim back in August of 2001 to ask him about his "little" record label, he told me about having buried it all somewhere on his farm. About 2 weeks later I called him again he said he had been cleaning out his barn and what did he find? A stack of stuff that had been covered with hay and other things. Turns out that stack contained a bunch of Chart, Scorpion, Peach, Great & Music Town records. It had been 22 years since he closed the doors on that part of his life. Finding all those records made him realize just how much that part of his life meant to him. He has wished time upon time that he had not let his emotions get the better of him when he threw it all out, but even though he may not have some of the material things from that era anymore, he will forever more have the knowledge that he made a difference in the lives of so many. His little record company brought to the fore front of American country music what no other record label could. And not because of the company itself, but because what the company stood for. What Slim, Cliff, Joe, Ott, Lloyd, and all the other employees at Chart stood for. . .giving you a chance. Chart had more young artists than any other country music label at that time. He gave them a chance. They gave the world some of the best country music it have ever heard. Slim gave them a chance, they didn't let him down.

Slim left this world on December 25th, 2013. He also left us a wonderful musical legacy that very few ever matched....