July is named Lynn Anderson Month - Jul 1969 Music City News
Bill Carlisle signs recording pact with Chart Records - Sep '69 Music City News
Tree to Represent Chart - Three music publishing firms in the Chart Records music group will be represented by internationally by Tree Music. The agreement was worked out by Chart's Slim Williamson and Tree's Jack Stapp & Buddy Killen. Yonah Music, Sue-Mirl Music, and Sugar Hill Music are included in the pact naming Tree as their representative in regards to sub-publishing rights and promotion of their respective catalogs throughout the world - with the exception of Germany, Austria, and Switzerland. - Aug '68.
Yonah Signs Ron Martin - Songwriter Ronnie Martin from Oklahoma has signed an exclusive writer's contract with Yonah Music. He will also record for Music Town Records under the direction of Yonah's Joe Gibson. - Aug '68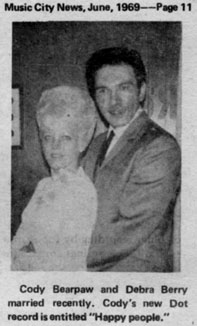 Cody Bearpaw & Debra Berry Marry - Jun '69 MCN
November 27, 1967 - 13 Year old LaWanda Lindsey Signs with Chart Records, Inc - excerpt from Jun '69 MCN.
Yonah Music, Inc Scores BMI Award for Liz Anderson's "If I Kiss You (Will You Go Away) performed by Lynn Anderson. - Nov '68 MCN.
Johnny Dollar Back On The Road - after a mild nervous breakdown. - Sep '70 MCN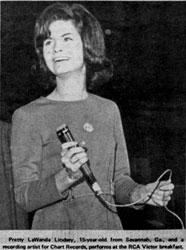 Pretty 15 Year Old LaWanda Lindsey Sings at the RCA Victor Breakfast During the DJ Convention - Oct '70 MCN.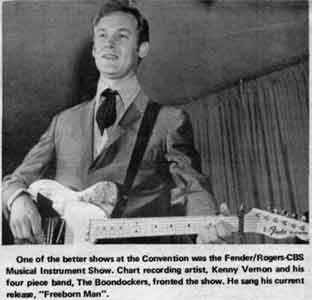 Kenny Vernon Headlines the Fender/Rogers-CBS Musical Instrument Show - Oct '70 MCN
Jim Nesbitt's Running Bear - on the Chart Label is rapidly scaling the charts. Nesbitt helped launch the Chart Records label in 1964 with his recording of "Lookin' For More In '64". - May '70 MCN
Kenny Vernon Signs With Taylor Firm - The Joe Taylor Artist Agency recently announced the signing of Chart recording artist, Kenny Vernon, to an exclusive contract. Vernon and his singing partner, LaWanda Lindsey, already under contract with the firm were winners of the SESAC Award last year for their recording of "Eye to Eye." Their current hit, a country version of the R&B favorite, "Pickin' Wild Mountain Berries," is high on the charts nationwide. Vernon and his band, perennial favorites of J. D.'s in Phoenix, Caravan East in Alburquerque, N.M., Hogan's in Colorado Springs and the Golden Nuggett in Las Vegas, plan to start doing one-nighters and package shows with his female duet partner. - May '70 MCN
Chart Records Artist Roster, Sep 1974 - Bobby Belew, Alice Creech, Jackie Dixon, Don Drumm, Sharon Gentry, Dawn Glass, Margie Kay, Mark Landers, Tom Mac, Joel Mathis, Ann J. Morton, Bruce Mullen, Lexi Patrick, Junior Samples, Red Sovine, Roni Stoneman, Don Taylor, Lee Wright. - Sep '74 MCN
Two New Singles Released on Chart Records - Alice Creech-"Morning Love" (CH-5208) & Tommy Crawley-"Too Much Of You" (CH-5209) - Feb -'74 MCN
Two New Albums Released on Chart Records - Jim Nesbitt "The Best Of Jim Nesbitt" (CHS-1044) & Junior Samples "The Best Of Junior Samples" (CHS-1045) - Jul '71 MCN
Kenny Vernon Featured at the Fender/Rogers Show - during the 1971 DJ Convention at the Hermitage Hotel along with Ronnie Prophet, The Homestead Act, and The Harper Valley P.T.A. - Nov '71MCN
LaWanda Lindsey is Marrying Rod Bright in Savannah, GA Oct 7th, 1972 Rod is a member of a gospel group called The Pilgrims. - Sep '72 MCN
Anthony Armstrong Jones - Now a resident of Nashville! - Sep '72 MCN
Mary Jones Seriously Ill With Cancer - A. A. Jones mother of Oklahoma City is seriously ill with cancer. Nov '71 MCN
4 Country Acts Inked To Chart - The Willis Bros, Carl & Pearl Butler, Red Sovine, & Kirk Hansard. - Sep 4 1971 Cash Box
Chart Inks Two! - Slim Williamson announced the signing of Charlene Davidson and Bruce Mullen. - Sep 8 1973 Cash Box
Chart Records Cut Raymond Smith Track - Raymond A. Smith who wrote "Fifteen Years Ago" will release "One Night To Remember" in early June. (It was actually released on Sugar Hill Records). - June 5 1971 Cash Box
Gibson Leaves Chart - Joe Gibson has resigned his position at Chart effective December 1st 1970. To form a new corporation know as JEM Entertainment Corp. The parting was amicable and Slim Williamson and Joe remain great friends. Said Joe, "I am happy to have been a part of Chart's fantastic growth to date and they'll keep growing. Chart has more potential country super-stars than any other label in the business." - December 28 1970 Cash Box
Better Sounds Is Sold! - Better Sounds Inc, owner of Chart Records and it's subsidiaries, including publishing, have been sold to a group in New Albany, Indiana. The new corporate officers of the firm which bought all the stock owned by Slim Williamson, former owner of Better Sounds, Inc. are: Donna Lee Worden, president; Tom Stanley, vice president in charge of publishing; Betty Stanley, secretary-treasurer; Allen Whitcomb, promotion manager; and Bill Worden, business manager. The firm will function under it's existing name. Worden said most attention would be devoted to developing existing artists although two new ones have been signed. They are Sharon Gentry of Louisville, Ky and Bobby Belew, son of artist-writer Carl Belew. Chart Records will be distributed by Buddah. The publishing companies involved are 16th Ave Music (BMI), Sue-Mirl Music (ASCAP), and Slimsongs (SESAC). Each has a productive catalog. - April 13 1974 Billboard
Renewed Chart Label to Buddah For Distribution - Chart records which once handled it's distribution through RCA and later turned to independent distributors now has worked out an agreement with Buddah. Art Cass & Neil Bogart, co-presidents of the Buddah Group made the announcement jointly with Slim Williamson who recently re-took possession of the Chart label. This according to Williamson, now provides the Buddah Group with a country music wing.- July 21 1973 Billboard.