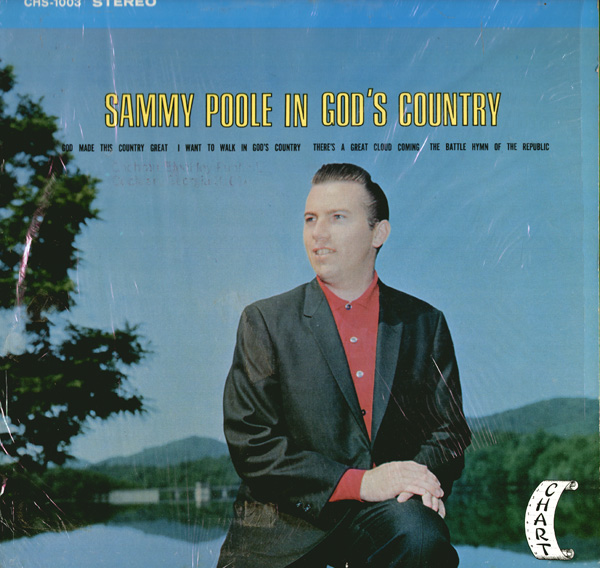 In Godís Country
CHM/CHS-1003 (1967)

Side 1:
Thereís A Great Cloud Coming (Penrow)
What Heís Done For Me (Spiritual)
God Made This Country Great (Bramley)
Room At The Cross (Stanphil - The Brazilian International Choir)
Til I Found Christ (Lenentine)
In The Garden (C. Austin Miles)

Side 2:
Master From Galilee (Lenentine)
On My Journey Home (Spiritual- The Brazilian International Choir)
I Wanna Walk In Godís Country (Bramley)
The Battle Hymn Of The Republic (Howe - The Brazilian International Choir)
I Am Not Worthy (B. Bixler)
How Long Has It Been? (Lister)

Produced by:
Slim Williamson
FROM THE STREETS OF NEW YORK'S SPANISH HARLEM TO A DINNER CLUB IN RIO DE JANEIRO YOU MIGHT HEAR AT ANY TIME THE GOSPEL SOUNDS OF SAMMY POOLE. A NATIVE OF AUGUSTA, GEORGIA, SAMMY'S RECORDING CAREER BEGAN THREE YEARS AGO IN NASHVILLE WITH AN ALBUM TITLED: "THE EVANGELISTIC SINGING STYLE OF SAMMY POOLE". THIS ALBUM RECEIVED NATIONAL RECOGNITION BY BEING SPOTLIGHTED IN BILLBOARD MAGAZINE.
SAMMY'S SINGING AND RECORDING HAS TAKEN HIM TO MANY PLACES INCLUDING SOUTH AMERICA WHERE HE SANG FOR FIFTEEN DAYS WITH THE "MEN FOR MISSIONS CRUSADE TO BRAZIL". FIVE OF THE SONGS ON THIS ALBUM WERE RECORDED IN LONDRINA, PARANA, BRAZIL IN THE "WAVES OF PEACE" STUDIOS OF THE ORIENTAL MISSIONARY SOCIETY.
HE HAS BEEN VERY ACTIVE IN YOUTH WORK INCLUDING THE INTERNATIONAL MINISTRY OF TEEN CHALLENGE IN NEW YORK, BOSTON, AND SAN FRANCISCO. AT THE PRESENT TIME SAMMY LIVE IN CUMBERLAND, MARYLAND WHERE HE SERVES AS MINISTER OF MUSIC FOR THE REVIVAL CENTER OF LAVALE.

In Memory:
God's Country is the land where people wait anxiously to serve their fellow man. Mrs. Emmie L. Coffee of Eastman, Georgia lived in God's Country, and her life, filled as it was with love and service, is an eternal invitation to this land we call "GOD'S COUNTRY". Mrs. Coffee's life proved that the best way to get rid of an enemy is to love him into being a friend. This recording is sincerely dedicated to her memory.