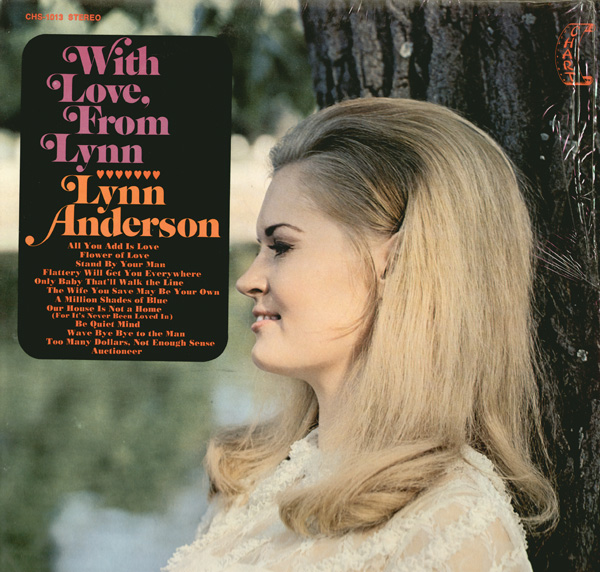 With Love From Lynn
CHS-1013 (1969)
Side 1:
All You Add Is Love (Liz Anderson)
Stand By Your Man (Tammy Wynette-Billy Sherrill)
Too Many Dollars, Not Enough Sense (Liz Anderson)
A Million Shades of Blue (Gene Hood)
Only Baby That'll Walk the Line (Ivy J. Bryant-Stevie Stone)
Be Quiet Mind (Liz Anderson)
Side 2:
Flower of Love (Leon Ashley-Margie Singleton)
Wave Bye Bye to the Man (LaWanda Lindsey-Joe Gibson)
Our House is Not a Home (For It's Never Been Loved In) (Curly Putman-Shirley Mayo)
The Wife You Save May Be Your Own (Joe Gibson-Charlie Wiggs)
The Auctioneer (Black-Vandyke)
Flattery Will Get You Everywhere (Liz Anderson)

Produced by:
Slim Williamson

An Open Letter To Lynn Anderson:

Lynn, big men don't cry. We're not supposed to. (It makes our mascara run.) But you went and did it to me, girl. You went and made me fall in love with you, and then you went and married that songwriter.
Oh, I know you didn't realize how my love was burning inside me. You just went out and cut a record called Ride, Ride, Ride and I did the rest. I listened over and over and over. That was the beginning—I was half in love before I ever saw that pretty face.
Then, one day in Nashville we met and I found myself staring into the face of an angel. That's when I fell the rest of the way. It wasn't long afterward that you recorded your second hit, If I Kiss You. (Oh, if only you had!) But, you know, I still like the flip side better. It was called Then Co. That was the first ballad I ever heard you do, and it just tore me up inside. In a way I was glad it wasn't the hit side. It made me feel as though I didn't have to share you with a million other fans.
There were more visits to Nashville and more in-person meetings— that is, until you moved to California. Ah, Lynn, that move put 2,000 more miles between us and it also put a great big dent in my heart. Now you were just too far out of reach.
But you began to do Lawrence Welk's TV show, and I found I could have you in my living room every week. All I had to do was sit through an hour's worth of bubbles. (That alone should prove how deep my love flowed.)
I felt that we were just getting to know each other real well—at least I was getting to know you—when I got the news from one of my many informants around the world. The news that meant the end of hope. The end of my dreams and fantasies. You were going to marry a songwriter.
Lynn, why couldn't you have waited for me? I mean, what could you have seen in him??? So he's successful and popular and witty and fun and clever. So what!!!
I would have given up everything for you—my job, my autograph collection, my monopoly set, even my little black book. But now it must be over. There is nothing left for me except a few recordings and a picture that I cut out of Country Song Roundup.
So now you know. Nov that it's too late for us. While you climb higher and higher up the success ladder, I'll just remain in my lonely room and think about the things that right have been.
With love, from Tom

Tom McEntee
Country Editor
Cash Box Magazine

P.S. By the way, your new album is great!