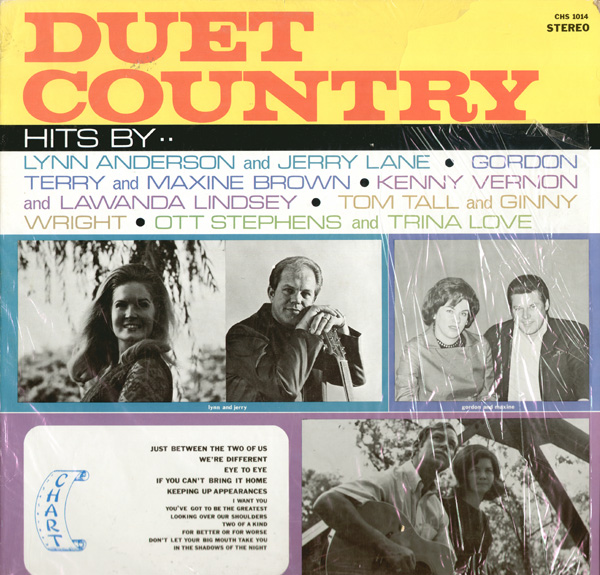 Note: This is the first LP released after RCA stopped, and Audio Fidelity began, distribution.
According to the numbers in the "dead wax" area, this record was pressed by Columbia Records. Now how about that!

Singles 59-5000 thru 59-5012 were also released in this transition period. Each had RCA matrix numbers, but with the new blue & yellow labels. The DJ promo copies had "Manufactured & Distributed by RCA" printed on the variously colored labels. Starting with single number 5013 the prefix changed from "59" to "CH". Single number CH-5013 was the first released under Audio Fidelity's control

Duet Country
CHS-1014 - (1969)
Side 1:
We're Different (Lynn Anderson & Jerry Lane)
(Jerry Lane - Yonah Music, Inc) BMI
Just Between the Two of Us (Gordon Terry & Maxine Brown)
(Liz Anderson - Yonah Music, Inc) BMI
Don't Let Your Big Mouth Take You (Ott Stephens & Trina Love) (Joe Gibson - Yonah Music, Inc) BMI
In The Shadows Of The Night (Tom Tall & Ginny Wright)
(I. Woods - Peach Music, Inc) SESAC
Looking Over Our Shoulders (Kenny Vernon & LaWanda Lindsey) (Stephens and Gibson - Yonah Music, Inc) BMI
You've Gotta Be The Greatest (Lynn Anderson & Jerry Lane) (Johnson and Anderson - Peach Music, Inc) SESAC

Side 2:
Eye To Eye (Kenny Vernon & LaWanda Lindsey)
(Jo Gibson - Peach Music, Inc) SESAC
Keeping Up Appearances (Lynn Anderson & Jerry Lane)
(Liz Anderson - Yonah Music, Inc) BMI
If You Can't Bring It Home (Ott Stephens & Trina Love)
(Gibson and Johnson - Yonah Music, Inc) BMI
Two Of A Kind (Gordon Terry & Maxine Brown)
(Shirley Hurst - Peach Music, Inc) SESAC
I Want You (Tom Tall & Ginny Wright)
(Tom Tall - Yonah Music, Inc) BMI
For Better Or For Worse (Lynn Anderson & Jerry Lane)
(Liz Anderson - Yonah Music, Inc) BMI

Produced by:
Slim Williamson & Joe Gibson
Album Design by Dan Quest Art Studio


DUET COUNTRY has been pretty green country for CHART. Some of our boy-girl twosomes seem to make the best seller lists each year. That's why we're sure you'll enjoy this col­lection of your favorites.
LYNN ANDERSON'S hit duets with JERRY LANE of "WE'RE DIFFERENT" and "KEEPING UP APPEARANCES" were the first big steps in her rise to fame as an internationally known artist. In addition to being a well known recording artist, JERRY is a very successful songwriter:
GORDON TERRY and MAXINE BROWN are paired with "JUST BETWEEN THE TWO OF US" and "TWO OF A KIND". You'll probably remember GORDON from his many movie roles and his hit records of "WILD HONEY", "LONG BLACK LIMOUSINE" etc. MAXINE formerly a part of THE BROWNS adds her own touch to these two as no one else can.
KENNY VERNON and teenager LAWANDA LINDSEY sing their big hit "EYE TO EYE" and "LOOKING OVER OUR SHOULDERS".
Here are two of the fastest rising stars in country music.
OTT STEPHENS and TRINA LOVE socked it to the country popularity charts in 1968 with "IF YOU CAN'T BRING IT HOME" and "DON'T LET YOUR BIG MOUTH TAKE YOU". You'll want to add these to your collection.
TOM TALL and GINNY WRIGHT sang our very first hit duet, "I WANT YOU" a few years ago. Now you can enjoy it and "IN THE SHADOWS OF THE NIGHT", all over again in this album. We think this is the finest assortment of country duets ever put together and hope you'll have many happy listening hours wandering through our DUET COUNTRY.

JOE GIBSON