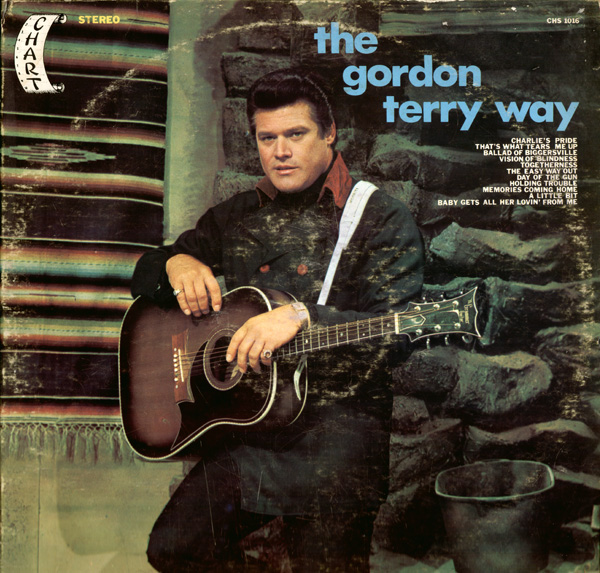 The Gordon Terry Way
CHS-1016 - (1969)

Side 1:
Charlie's Pride (E. Russell & B. Mize)
Togetherness (Jo Gibson)
Baby Gets All Her Loving From Me (Russell)
Ballad Of Biggersville (Gene Hood)
Day Of The Gun (Ronnie Martin)
Memories Coming Home (E. Russell & W. Thompson)

Side 2:
That's What Tears Me Up (Carter & Cheatham)
Vision Of Blindness (Ronnie Martin)
Holding Trouble (Gene Woods)
The Easy Way Out (Russell)
A Little Bit (Terry)

Produced by:
Slim Williamson & Joe Gibson

Album Design by:
Dan Quest Art Studio

When you refer to the title of this album "THE GORDON TERRY WAY" you immediately cover a lot of ground. Those of you who have seen or met GORDON TERRY know what I mean. "THE GORDON TERRY WAY" is like no other way at all.
When I first heard the name GORDON TERRY I was stationed at Keesler Air Force Base in Biloxi, Mississippi where I attended the FARON YOUNG show, only to find GORDON TERRY playing fiddle for FARON YOUNG. He knocked me out playin' that dad-gum fiddle. A few years later GORDON TERRY had a re­lease on a song called "WILD HONEY" which was a big hit for him and also featured his guitar playing. GORDON playin' that dad-gum guitar knocked. me out again. Since that time GORDON TERRY has continued to knock 'em out all over the country.
In "THE GORDON TERRY WAY" you find another way to be entertained by his smooth approach to Country Music. The treatment GORDON gives. the song "THE EASY WAY OUT" 'cannot help but drum up memories of an old hurt. The way he expresses his feeling in the song written by Jo Gibson "TOGETHERNESS" gives you the impression he actually lived the part. "THE GORDON TERRY WAY" doesn't let up a minute in his delivery of "VISION OF BLINDNESS."
In my position in life as a song writer I feel very honored to be able to express in these notes my feeling and my friendship toward a fine talent, fine person and friend such as GORDON TERRY.
I also am very honored that Mr. Slim Williamson of Chart Records saw fit to include in this album the song which I had a hand in writing "CHARLIE'S PRIDE." THANKS SLIM THANKS GORDON
Here's hoping "THE GORDON TERRY WAY" goes on and on.