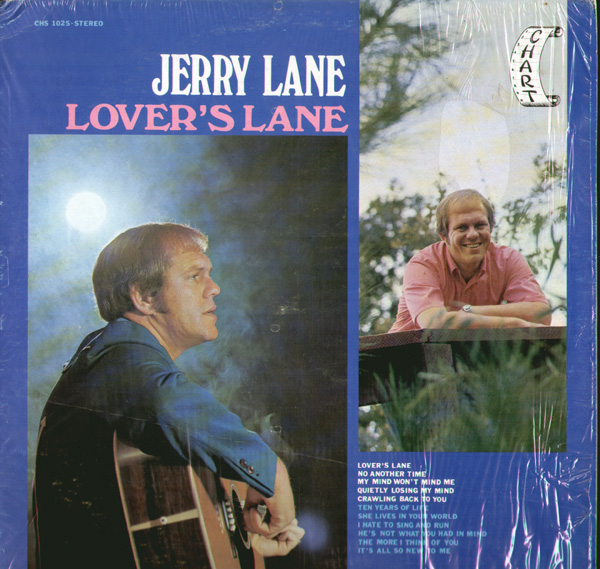 Lovers Lane
CHS-1025 - (1969)

Side 1:
Lover's Lane (Gene Hood)
Ten Years Of Life (J. Scoggins-G. Parke)
Quietly Losing My Mind (Liz Anderson)
He's Not What You Had In Mind (Gene Hood)
She Lives In Your World (Jerry Lane)

Side 2:
No Another Time (Jerry Lane)
My Mind Won't Mind Me (Jerry Lane)
It's All So New To Me (Jerry Lane)
Crawling Back To You (Gene Hood)
The More I Think Of You (Jerry Lane)
I Hate To Sing And Run (Jerry Lane)

Produced by:
Slim Williamson

Album Design by Dan Quest Art Studio
Have you ever heard a record called "WE'RE DIFFERENT"? Well, if you don't remember it, don't feel bad ... it wasn't what we like to call a monster! It was a duet ... and one half of the singers was me (my very first record ever). The other half was JERRY LANE.
What a "pro" Jerry was the day of the recording session. He'd been performing for 'many moons' and knew exactly what to do. Jerry was . . . but let's say 'is' . . . a fine songwriter, too. He has many hits to his credit, and even gave me one! He'd already recorded "THERE AIN'T GONNA BE NO ANOTHER TIME" himself, but let me release mine instead of his own. That's the kind of a guy Jerry is!
With all that going for him it just seems natural that Jerry should be a success as a singer. I sure enjoy his singing, and I know you will, too, when you listen to this "LOVER'S LANE" album.
Lynn Anderson