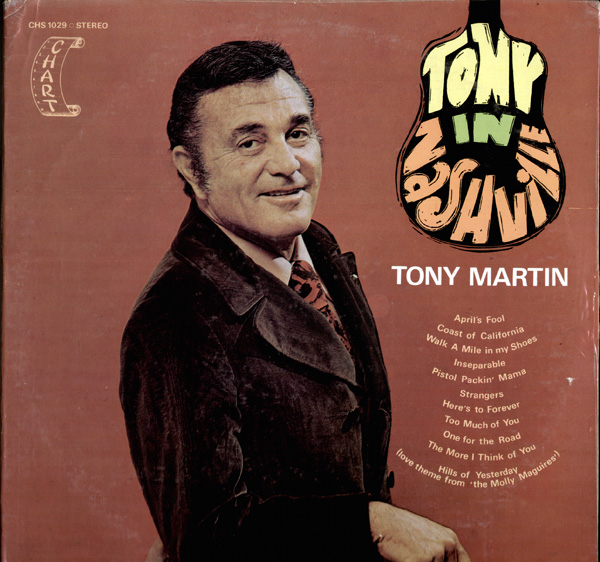 Tony In Nashville
CHS-1029 - (1970)

Side 1:
The Coast of California (Marty Weitzler)
April's Fool (Dave Kirby-Glenn Martin)
Here's To Forever (Micky Newbury)
Too Much Of You (Gene Hood)
Strangers (Liz Anderson)
The Hills Of Yesterday (P. Webster-H. Mancini)

Side 2:
One For The Road (Liz Anderson)
Inseparable (Cindy Walker)
Pistol Packin' Mama (Al Dexter)
Walk A Mile In My Shoes (Joe South)
The More I Think Of You (Jerry Lane)


Produced by:
Cliff Williamson

Sounds like an odd place for this dapper crooner of sophisticated songs to be recording, doesn't it? A few years ago it might have been, but not today. The myriad sounds coming out of Nashville now seem to complement pop singers as well as country.
This was Tony's first time to record in Nashville and he left with words of praise for the Music City musicians and the warm hospitality of the city.
The selections in this album showcase the inimitable Martin voice in a great variety of sounds. From the beautiful sounds like "Coast of California" and "Hills of Yesterday" (from the Paramount movie "The Molly MaGuires"), thru a rousing version of the old timer "Pistol Packin' Mama" and a good interpretation of the recent folk-rock hit "Walk a Mile in My Shoes".
As a recording artist, Tony has one of the biggest collections of gold records in the business. Some of his million sellers are "I Get Ideas", "To Each His Own", "There's No Tomorrow" and "Begin the Bequine."
Tony Martin, known as "Mr. Show Business" to his colleagues for his outstanding successes in all phases of the entertainment world, holds a unique distinction in success­conscious Hollywood. In the "Walk of Fame," blocks, Tony's name appears four times, in the categories of radio, motion picture, television and recordings, a career testimonial of his stature in the entertainment industry.
Tony has been a headliner for over 25 years. And he has had this success in every field.