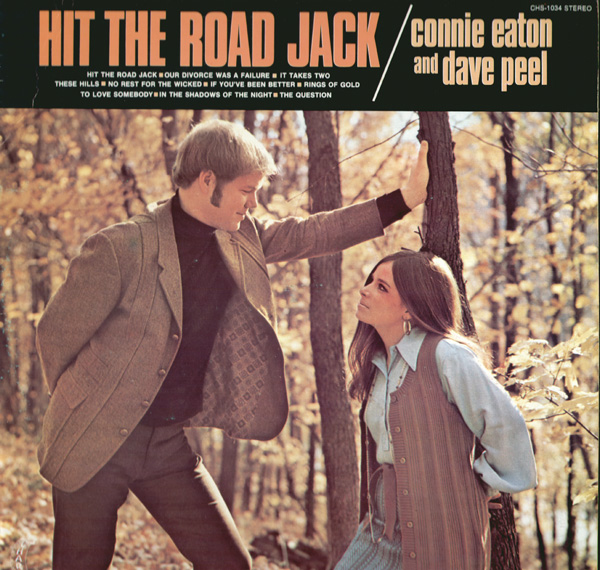 Hit The Road Jack
CHS-1034 - (1970)

Side 1:
Hit The Road Jack (Percy Mayfield)
Rings Of Gold (Gene Thomas)
The Question (Vance Bulla)
No Rest For The Wicked (Liz Anderson)
These Hills [Connie Only] (Vance Bulla)

Side 2:
It Takes Two (Wm. Stevenson-S. Moy)
To Love Somebody (Robin & Barry Gibb)
In The Shadows Of The Night (Imogene Woods)
Our Divorce Was A Failure (Ron Martin)
If You've Been Better [Dave Only] (Vance Bulla)

Produced by:
Cliff Williamson

Album Design by Dan Quest & Associates
CONNIE EATON & DAVE PEEL What a combination!!!!!!

Both are young and energetic and READY TO SING YOU A SONG ANYTIME.
CONNIE has stacked up the credits at the age of twenty with appearances on: THE ALL-AMERICAN COLLEGE SHOW (produced by Wendell Niles and sponsored by Colgate-Palmolive), THE LAWRENCE WELK SHOW, HEE HAW, THE ARTHUR GODFREY RADIO SHOW, and the ABC Network series THE BEST OF EVERYTHING for which she sings the title song.
DAVE also has a fabulous history with appearances on THE DANIEL BOONE television show, as well as the TRAVELING FESS PARKER RODEO, and a guest shot on the VIRGINIAN. He has performed as a part of such well-known singing groups as the Good Time Singers, the New Kingston Trio, and the Wilshire Boulevard Buffalo Hunters.

Here's Connie and Dave.