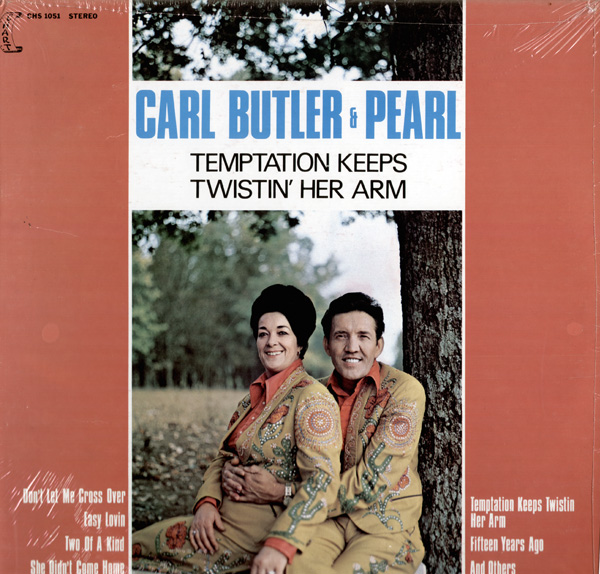 Temptation Keeps Twistin' Her Arm
CHS-1051 - (1971)

Side 1:

Temptation Keeps Twistiní Her Arm (Gene Hood)
Easy Loviní (Freddie Hart)
Letís Watch The Bluebirds (John W. Moore)
Two Of A Kind (Shirley Hurst)
Watch That First Step (Wayne Kemp)

Side 2:

Donít Let Me Cross Over (P. Jay)
Fifteen Years Ago (Raymond A. Smith)
She Didnít Come Home (Jim Nesbitt)
Iím So Close To Loving You (Ruby Moody)
Heartaches For Lunch (Butler)

Produced by:
Cliff Williamson

Album Design by Dan Quest & Associates, Inc
A completely country team merges with a complete country team. No, the typewriter did not stick, but I better explain.... Lend an ear! A completely country, phonograph recording company has merged with a complete country record making team. . . . And the world shall hear of their marriage or merger.
It was only natural for Chart Records to have as their newest stars, Carl Butler and Pearl, who join an already glittering array of stars. For years, the world has sung along, and often lived the songs of Carl and Pearl . . . one of America's greatest country duets. We could take just a few of the newly recorded songs from this album and tell a story, that really will tell it like it is. . . . "Fifteen Years Ago", strangers, just "Two Of A Kind" met, who knew strange love was all wrong, they sang "Don't Let Me Cross Over" but found that "Temp≠tation Keeps Twisting Her Arm". They later had "Heart≠aches For Lunch", Carl and Pearl are genuine country folks who live on a horse and cattle ranch just outside Franklin, Tennessee, and sing those good of country songs about life. Life is happy and cruel, mostly at the same time. That's why I know that you will enjoy this premier album by Carl Butler and Pearl. When two completely country teams merge, then it's you the public that wins.
Try it ... you'll like it!

JACK SECKEL MUSIC DIRECTOR WMTS RADIO MURFREESBORO, TENNESSEE