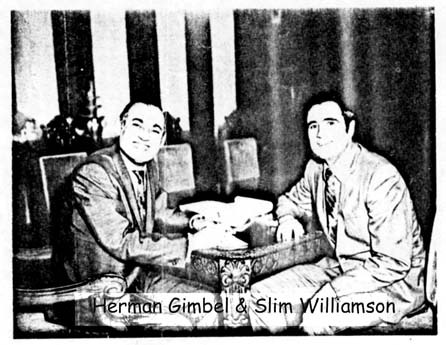 Early in 1969 Williamson was approached by John Sturdivant of Record World Magazine about the possible sale of Chart Records. He told Williamson that Audio Fidelity out of New York City wanted to buy a country music record label and asked if he was he interested. Of course by this time Chart had grown considerably and in order for it to continue to grow, more capital would be required. Vance Bulla, who was a songwriter, co-owner of Sugar Hill Records along with Cliff Williamson, and manager of Williamson's music publishing companies, Yonah Music, Inc. (BMI); Peach Music, Inc. (SESAC); Sue-Mirl Music (ASCAP), and he drove to New York and to make a long story short, Audio Fidelity bought the label.
Herman Gimbel, Chairman of the Board of Directors for Audio Fidelity, was responsible for making the arrangements. The announcement came the first week of March, 1969, Chart's fifth anniversary. At the time the exact dollar figure was not released, but Williamson says that the company sold for over a half a million dollars! Not a bad price for a company that was originally bought for $350.00.
Under the corporate umbrella of Audio Fidelity, Williamson was retained under long term contract as President of Chart Records and a member of the Board of Directors of Chart Records, Inc. Herman Gimbel would be Chairman of the Board of Directors for Chart Records, Inc. Williamson would still bring in new talent and produce some of the records. It was also noted in the press release that RCA would continue to manufacture and distribute the Chart product. In effect, the business end of Chart would remain virtually unchanged.
The very next month on May 31st, 1969 Chart amicably ended it's distribution agreement with RCA. There are several versions of who instigated the severed ties with RCA. Slim Williamson states that Audio Fidelity wanted to end the deal because they felt that RCA was making all the money. Joe Gibson thought it was due to royalties being paid to the top selling artists (See Joe's interview for any clarifications.) Still another view is that since Chart was sold to Audio Fidelity and RCA knew that Lynn Anderson would not be renewing her contract with Chart, RCA no longer had a "sure thing", they wanted out. Whatever the exact reason, the official version in the trade papers stated that Slim wanted to control the distribution.
Chart Cuts Distrib Ties With RCA; Broadens Plan - Billboard 5/31/1969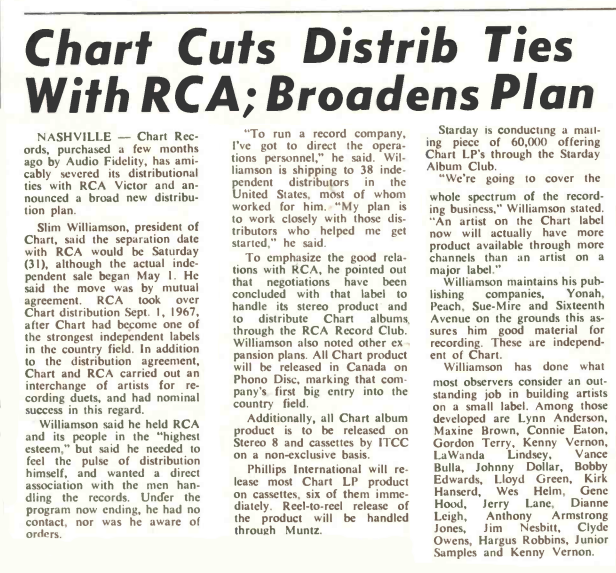 NASHVILLE — Chart Records, purchased a few months ago by Audio Fidelity, has amicably severed its distributional ties with RCA Victor and announced a broad new distribution plan. Slim Williamson, president of Chart, said the separation date with RCA would be Saturday (31st), although the actual independent sale began May 1st. He said the move was by mutual agreement. RCA took over Chart distribution Sept. 1, 1967, after Chart had become one of the strongest independent labels in the country field. In addition to the distribution agreement, Chart and RCA carried out an interchange of artists for recording duets, and had nominal success in this regard. Williamson said he held RCA and its people in the "highest esteem", but said he needed to feel the pulse of distribution himself, and wanted a direct association with the men handling the records. Under the program now ending, he had no contact, nor was he aware of orders. "To run a record company, I've got to direct the operations personnel," he said. Williamson is shipping to 38 independent distributors in the United States, most of whom worked for him. "My plan is to work closely with those distributors who helped me get started," he said. To emphasize the good relations with RCA, he pointed out that negotiations have been concluded with that label to handle its stereo product and to distribute Chart albums, through the RCA Record Club. Williamson also noted other expansion plans. All Chart product will be released in Canada on Phono Disc, marking that company's first big entry into the country field. Additionally, all Chart album product is to be released on Stereo 8 and cassettes by ITCC on a non-exclusive basis. Phillips International will release most Chart LP product on cassettes, six of them immediately. Reel-to-reel release of the product will be handled through Muntz. Starday is conducting a mailing piece of 60,000 offering Chart LP's through the Starday Album Club. "We're going to cover the whole spectrum of the recording business," Williamson stated. "An artist on the Chart label now will actually have more product available through more channels than an artist on a major label". Williamson maintains his publishing companies, Yonah, Peach, Sue-Mirl and Sixteenth Avenue on the grounds this assures him good material for recording. These arc independent of Chart. Williamson has done what most observers consider an outstanding job in building artists on a small label. Among those developed arc Lynn Anderson, Maxine Brown, Connie Eaton, Gordon Terry, Kenny Vernon, La Wanda Lindsey, Vance Bulla, Johnny Dollar, Bobby Edwards, Lloyd Green, Kirk Hansard, Wes Helm, Gene Hood, Jerry Lane, Dianne Leigh, Anthony Armstrong Jones, Jim Nesbitt, Clyde Owens, Hargus Robbins, Junior Samples and Kenny Vernon.
January 1970 saw the loss of Lynn Anderson from the Chart roster. Williamson stated that the Audio Fidelity folks didn't make the appropriate negotiations to keep her there. Glen Sutton, Lynn's husband at the time and a producer at CBS, had a major part in her move to Columbia. Promises of more money and better treatment were no doubt offered as part of the package. Lynn's first sessions for Columbia Records began January 6th, 1970, produced by her husband Glenn Sutton.
Says Lynn: "The main reason for my move to CBS was my new HUSBAND, Glenn Sutton, who worked as a member of the Production Staff for CBS Nashville! While co-writing songs with Billy Sherrill for most ALL of the CBS/Epic acts (Tammy Wynette, David Houston, Jerry Lee Lewis, etc) ... he produced great records for Jody Miller, Jim & Jesse, & Jerry Lee. The move to CBS was just a natural progression, and enabled me to work with Glenn as my producer. We took Chart Records right along ... as my contract with CBS included the purchase of all those Chart Masters. That's how and why you've seen Chart recordings re-released under the Columbia Special Products banner".
Now the label was without it's major star and no national distributor. Williamson states that Audio Fidelity's idea of distribution left a lot to be desired. They just did not know how to handle country music. But this didn't hold the little label back any. As he had done in the recent past, Williamson set up an independent national network of distributors under the direction of Chart's lead sales & promotion man, Joe Gibson. The years of 1969 to 1971 were some of Chart's busiest.
Williamson ran the company for Audio Fidelity and, after a couple of years, in the fall of 1971 bought it back at a substantially lower price that he originally sold it for. The details of this negotiation are unknown to me, but Slim cited Audio Fidelity's lack of understanding for the country music market as a reason for the decline. Audio Fidelity was a pop music company and tried to run Chart in the same manner.
Slim Williamson Again Heads Chart in AFE R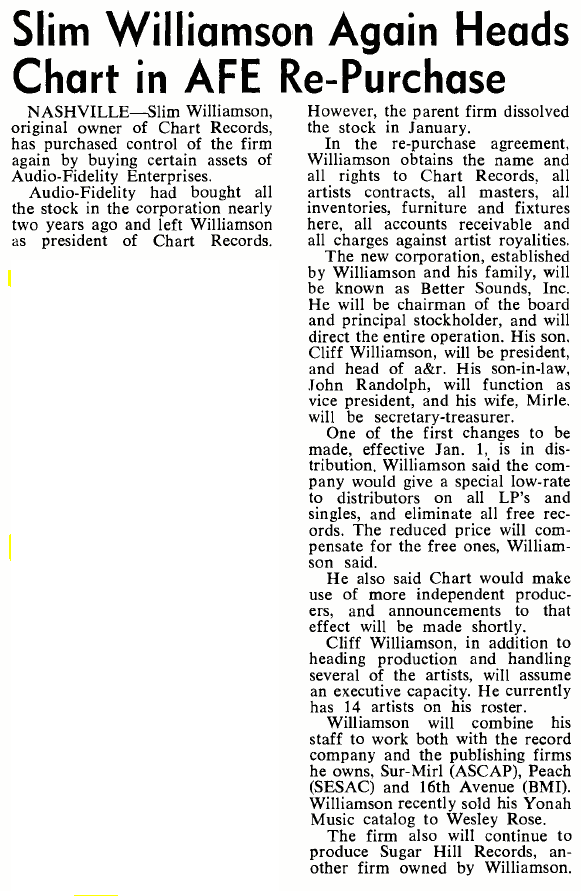 e-Purchase - Billboard 12/11/1971.
NASHVILLE—Slim Williamson, original owner of Chart Records, has purchased control of the firm again by buying certain assets of Audio-Fidelity Enterprises. Audio-Fidelity had bought all the stock in the corporation nearly two years ago and left Williamson as president of Chart Records. However, the parent firm dissolved the stock in January. In the re-purchase agreement, Williamson obtains the name and all rights to Chart Records, all artists contracts, all masters, all inventories, furniture and fixtures here, all accounts receivable and all charges against artist royalities. The new corporation, established by Williamson and his family, will be known as Better Sounds, Inc. He will be chairman of the board and principal stockholder, and will direct the entire operation. His son. Cliff W'illiamson, will be president, and head of a&r. His son-in-law, John Randolph, will function as vice president, and his wife. Mirle. will be secretary-treasurer. One of the first changes to be made, effective Jan.1, is in distribution. Williamson said the com- pany would give a special low-rate to distributors on all LP's and singles, and eliminate all free records. The reduced price will compensate for the free ones, Williamson said. He also said Chart would make use of more independent producers, and announcements to that effect will be made shortly. Cliff Williamson, in addition to heading production and handling several of the artists, will assume an executive capacity. He currently has 14 artists on his roster. Williamson will combine his staff to work both with the record company and the publishing firms he owns, Sur-Mirl (ASCAP), Peach (SESAC) and 16th Avenue (BMI). Williamson recently sold his Yonah Music catalog to Wesley Rose. The firm also will continue to produce Sugar Hill Records, another firm owned by Williamson.
In December 1970 Joe Gibson resigned from Chart to form Prize Records and a little later started the highly successful Nationwide Sound Distributors (NSD). The next few years were fairly sparse as far as single record releases go. Since 1971 the release schedule had slowed to about half of it's '69/'70 schedule. By my count only 34 singles were released in 1971 as comapred to 62 in 1970, and 58 in 1969. While they may have slacked in single releases they got in the LP business in a big way. By my count 37 long players were released during the time Audio Fidelity owned Chart.
1969 brought a couple of changes to Chart's labels. All record companies distributed by RCA began a new stereo catalog numbering system in the 5000 series. Chart's 59-1000 series mono singles ended at 59-1071 and began the new stereo series at 59-5000. The last RCA distributed single for Chart was 59-5012. At that time Chart continued with the 5000 series and replaced the 59- with CH-.
As you can see, each major change at Chart brought about a label scheme change. This time the label changes to a light blue instead of bright red. The yellow logo and band remain unchanged. Also a different catalog number system is used, the 5000 series. Audio Fidelity owned Chart beginning with release 5000 and running sequentially thru 5149, at which time I believe Williamson bought the label back. The first LP release under Audio Fidelity was CHS-1014 - "Duet Country". The last was CHS-1051 - "Temptation Keeps Twisting My Arm" by Carl Butler & Pearl.
Shortly after Chart was purchased back from Audio Fidelity, it was turned over to Williamson's oldest son Cliff. Cliff was named president and Bill Walker was named Vice-President. Slim wanted to attend to his radio station concerns. More about Cliff in the next chapter, Chart Records, the Sound of the Seventies.
Written by Martin E. Thomas, 2003-2019.