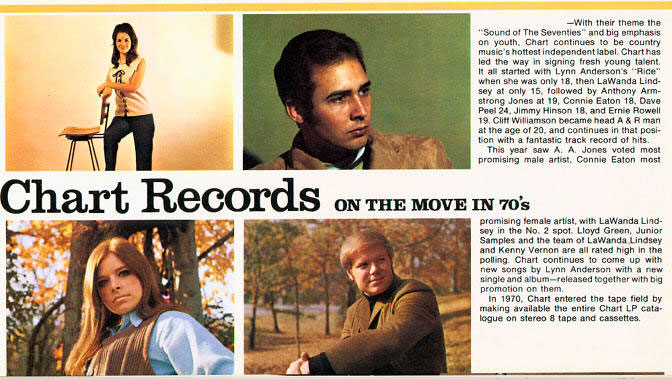 As the seventies roared in Cliff Williamson, the eldest of Slim & Mirl's children, was an extremely active member of Chart Records. Cliff started in the business at a very early age. When he was just six years old he had his very own radio show on WIMO in Winder, Ga, the very station where Slim got his start. At age seven he was crowned "The World's Youngest D. J." and appeared on WSM radio's Mr. DeeJay, USA segment. By the time Cliff was 14 he was an established professional having his own after school and weekend radio shows which was turned fulltime during summer vacations. At soon as he was physically able, Cliff attended Elkins Radio Institute coming away with his First Class FCC Radio Engineer's License. Most D. J.'s of the time only held a Third Class license. Yes, young Mr. Williamson was a dedicated radio man! He is also somewhat of a musician, playing clarinet, saxophone, & guitar. In 1968 when Cliff was just 19, he was officially a part of Chart Records executive staff. Also by this time he co-owned his own label, Sugar Hill Records (not to confused with any label existing today). Cliff was involved in every aspect of his fathers companies. He was vice president of Better Broadcasting, Inc. which was Williamson's radio station concerns, and he held an executive position with the music publishing companies and their talent agency, Country Talent Agency. A busy man indeed!
As time went by Cliff was called on to be Chart's head A & R man, a task he took very seriously. Under his direction a new crop of young talent was emerging. Connie Eaton, La Wanda Lindsey, Kenny Vernon, Dave Peel, and the list goes on.
From about December 1971 until 1973 the label was essentially under the direction of Cliff. In April 1971 Slim sold Yonah Music, Inc to Fred Rose Music, Inc. for $275,000. This was used towards the re-purchace of Chart. A new BMI publishing company was formed called Sixteenth Avenue Music and the core of songs were published through that company. 1971 saw the formation of Better Sounds, Inc. The corporation was formed specfically to purchace Chart in the late fall of 1971. At about this same time Great Records was decommissioned.
Effective October 1972, Bill Walker became part owner of Better Sounds, Inc. Slim remained on the Board Of Directors, but basically handed the label over to Cliff who was named president of Chart Records and Bill Walker was named the Director of A&R.
Cliff produced most of the records released by Chart for the period from 1971 through 1973. His partner and vice president Bill Walker produced a few also. Some of the new artists signing on either had their own production companies or were assigned to an outside production company. Karen Wheeler & Ernie Rowell are two that come to mind right away. Cliff was in the process of obtaining a distribution deal with Buddah Records. A lot was happening for Chart during this period, but alas it was also the dawning of the end for Chart. 1973 saw Chart's young star producer leave for a slice of the big time. Cliff & Bill Walker took positions with GRC in Atlanta, Ga. before the Buddah distrbtorship took effect.
Another interesting thing about the labels starting occuring in late 1971. Most 45s had the release date printed on the label! Of course this was the date the records were released for public purchase. I would imagine promos were available to radio stations somewhat eariler. 5109 was the first and 5193 was the last. I can't think of any other label that printed the release date on their records. Was it a good thing, or not?
.
The label design remained the same and the record numbers for this period ran sequentially from 5150 thru 5195
In the next chapter, The Buddah Days and ......the End.
Written by Martin E. Thomas, 2003-2019.