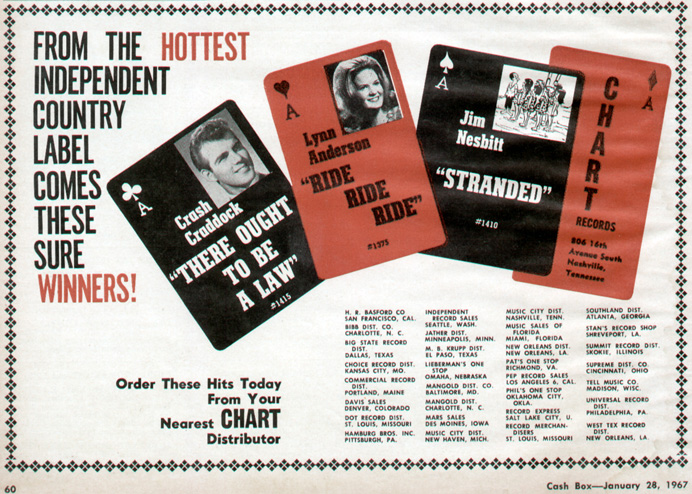 ---
Welcome to the Chart Records Appreciation site. This web site is intended to provide a historical overview of one of the more successful independent country music record labels of the '60's and early 70's, Chart Records, Inc.
This project started out as a way to share my interests in a small record label that has from the start been one of the true innovative greats. From its beginnings in Louisville, Georgia, to the heart of country music - Nashville, Tennessee, Chart Records, Slim Williamson, his family and staff has given the world a true musical legacy. A legacy that should not be forgotten as a footnote in the history of country music, but remembered as it should; part of history itself, for history was indeed made with this label. Lynn Anderson, Lloyd Green, Jim Nesbitt . . . these artists and more will always be remembered for their work with Chart Records. And Chart Records will always be remembered for them.
What started out as a search for a few records has turned out to be one of the most pleasurable and exciting experiences I've ever had. During this journey through time I've discovered that the people who were associated with Chart Records are the friendliest folks you'd ever want to meet and talk to. I am truly honored that they who were (and essentially are) "Chart Records" have taken time out of their busy schedules and talked with me. Without them this would merely be a collection of words and pictures.
I want to express my sincerest thanks to all the folks with whom I've spoken to over the past few years in regards to Chart Records. Your contributions to this site has truly brought life to it. I will forevermore be in your debt. I especially want to thank Slim Williamson. Slim, you had the vision and the courage to make it happen. Thank you for sharing it with the rest of the world. This was and is, truly, a label of friends.
Please take your time and explore the site. Visit all your favorite artists pages and learn about their music on the Chart Records Label.
THIS IS A LOT LESS THAN PLANNED, BUT IT WILL GROW! - 12/06/2006